4 alluring non-white bathroom design ideas
For many years now, white has been the most popular choice in bathroom design for Aussies. However, this trend has been so overused that many people (myself included) are absolutely sick and tired of seeing white bathrooms.
I've noticed lately, that many homeowners are looking for alternative bathroom inspiration, whilst still wanting to remain on trend. Unfortunately in doing so, their non-white designer bathrooms end up costing them a fortune.
Nevertheless, let me tell you that creating a designer bathroom doesn't have to cost a fortune. homeimprovementpages.com.au may state that a bathroom designer can charge anywhere from $250 for a consult to $2,300 for a high-end interior design. However, you can save yourself a whole heap of money by studying trending styles and creating the look you want yourself. Hopefully this post will act as a great foundation for your design creativity!
So, continue reading this post as I list 4 exciting and alluring non-white bathroom design ideas. These design styles will allow you to create trendy bathrooms, while avoiding white completely. You can thank me by choosing to purchase your bathroom products from us at Ross's Discount Home Centre.
1. Back to black
Instead of choosing to go with a dull white bathroom design, you can make a bold statement by choosing black instead. Indeed, black is currently trending all over the world as confirmed by expert designers and architects.
To achieve this look, you'll need to purchase black fittings and fixtures for your bathroom. You can complete the look by choosing black tiles for your floors and walls.
Here, at Ross's Discount Home Centre, many of our savvy customers have already adopted this trend. If you'd like to adopt this trend too, take a look at our Cube range ($100-$180), Michelle Vanity ($669) and Galaxy Black Oval Freestanding Bath ($1,480). These fixtures and fittings feature a brilliant satin black finish and they are incredibly popular with customers.

You can complement this look with our Matang Charcoal Wall Tiles ($30) and our Matang Charcoal Floor Tiles ($30).

2. Celebrate Stone
I've also noticed that many designers recommend using stone as their base for creating a modern bathroom design. This is another great way to create a trendy looking bathroom, while avoiding white altogether.
To create this look, choose fixtures and fittings that use natural stone components. This helps create a comfortable, restful and visually attractive space.
At Ross's Discount Home Centre, we have just the right products to help you achieve this style. Our Dijon Vanity Unit ($785) is a stylish and contemporary vanity, which features a Nile Oak finish. You can complete the natural look with our Cream Interlocking Feature Tiles ($80) and our Lily Stone Floor Tiles ($80).
3. Go Natural
As an alternative to the above, you can also create an all-natural look by focusing on wooden textures offset with chrome fittings. You can also include some plants and earthy elements to complete this look. Expert designers believe that this trend is here to stay for a while.
You'll find everything that you need to create this bathroom design style at Ross's Discount Home Centre. Our Belford Vanity Unit ($95-$465), Cube Basin Mixer ($180), Cube Shower Head ($100) and Cube Shower Mixer ($150) are perfect options. Moreover, our Osaka Décor Tiles ($29) can help you complete the natural look in your bathroom.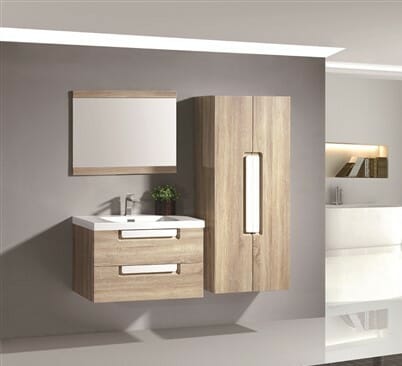 Belford Vanity Unit – From $485 inc.GST
4. Mix n' Match
Finally, another great way of creating a trendy bathroom design while avoiding white is by mixing and matching your tiles and materials. There are many ways you can go about doing this.
For instance, you can use feature tiles on the floor paired with a plain wall. To create this style, consider our Atelier Feature Tiles ($16) for your floor and our Matt White Wall Tiles ($25) paired with the Dijon Vanity Unit ($785).
Alternatively, you can also consider pairing a colourful wall tile and a plain floor with a vanity. For this, take a look at our Grenier Mix Wall Tiles ($16) and Matang Zinc Floor Tiles ($30) and the Geneva Vanity Unit.
Conclusion:
If you're looking to avoid a white bathroom design while still staying on trend, there are a few design ideas you can consider. You can choose to create an all-black look, celebrate use of stone and timber, create a natural look with timber, plants and chrome fittings or mix and match your tiles. These design styles will allow you to create a wonderful and visually appealing bathroom, while avoiding white altogether.
And, for all your bathroom design products, look no further than Ross's Discount Home Centre. We have a huge stock of materials and products. With us, you'll find everything that you need under a single roof.
So, head over to our showroom, or shop online with us today!
Have your say!
We want to know which non-white bathroom design style you like the most!