Top 5 Kitchen Design Styles of 2019
I spend a lot of time looking at product trends. But seldom do I look at style trends. Today, it changes. As the kitchen is unquestionably the most essential room of the house – not only because that's where the fridge is located 😋, but because it has the most significant impact on the overall design of a home – it only makes sense to start by look at this year's hottest kitchen design styles.
Ross's Discount Home Centre's kitchen cabinets are best described as modern in style, however, paired with the right splashback, benchtop, and tile combination, they can be transformed into any of this year' tending design styles. And, you'll have saved yourself a LOT of money in the process!
To get inspiration for your new kitchen, consider these top five kitchen design styles of 2019.
Minimalistic Kitchen Design
Minimalistic kitchen design has really taken off over the last couple of years to become the most popular design style, and not only for kitchens but entire homes.
Minimalistic kitchen design is achieved by having a predominantly white palette with as few as possible design elements, to create an open, clutter-free space.
Minimalistic kitchen design is also often infused with Scandinavian and monochromatic design styles.
Simplicity is the key to pulling off this kitchen design style, and our gloss white kitchen cabinets are the ideal choice to achieve this look.
Modern Kitchen Design
Modern kitchen design is a style that will never fade. It offers a lot of flexibility in design style. However, it is best characterised by its simple clean lines – think frameless cabinets, simple tapware and hardware, and clean lines with no embellishments.
Modern kitchen design is often confused with contemporary kitchen design. However, the big difference is that contemporary kitchens have a focal point, whereas modern kitchens avoid creating a focal point.
Beach Style Kitchen Design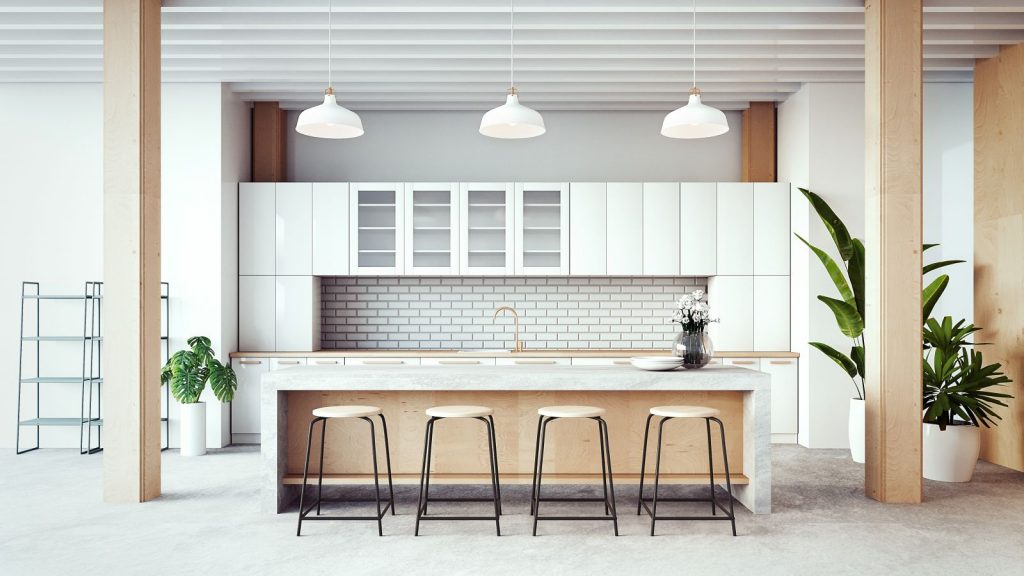 Beach Style kitchen design is a popular choice for coastal residents. This contemporary style using a predominantly white palette paired with natural fittings such as wood shelves, timber benchtops and cane light pendants to add a coastal touch.
Beach Style kitchen design is also often infused with Hamptons and contemporary coast design styles.
Traditional Kitchen Design
You can never go wrong in choosing the traditional kitchen design style. Defined best as having a lot of detail in the cabinetry, and lots of embellishments, traditional kitchen design is classic and everlasting.
Traditional kitchens feature framed cabinetry and drawers, with industrial-styled lighting. While the cabinetry is usually white, coloured cabinets are found in traditional kitchens with modern influences.
Eclectic Kitchen Design
Eclectic kitchen design may be new to you, but really it's been around forever. Essentially, it is a blend of multiple patterns, textures and styles to create a kitchen design that is entirely unique to your own personality and tastes; meaning, there are no rules to follow. If you like it, do it!
However, you do have to be mindful in your design choices and be sure not to overdo it.
Conclusion
To design a trending kitchen, you need more than just this year's hottest products; you need a killer design style to go along with your products. If you're struggling to come up with a clear, consistent design style or you're unclear about design styles, then discovering this year's top design styles should help you get closer to making a decision.
The top design styles of 2019 to consider are Minimalistic, Modern, Beach Style, Traditional and Eclectic kitchen design.
Just remember, as the most important room on a home, a kitchen's design style should pave the way the rest of the house.
Once you've decided on a style, you can then shop for products to bring that style to life. And, where better to do that than here, at Ross's Discount Home Centre. We have everything you need to pull off any of these kitchen design styles, and you'll find them all at very competitive prices. Winner, winner, chicken dinner!